Head of PE Crowned Waltham Forest Active School Hero 2020
Back

7th May 2021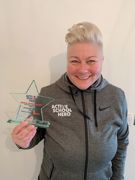 ~ Regional award presented to Maria Papazoglou for her inspiring work in keeping pupils active ~
Last November, our Head of PE, Maria Papazoglou, was crowned Active School Hero 2020 for the London Borough of Waltham Forest and last month she donned her winner's trophy and jumper for the very first time.
Each year, Active School Hero celebrates the achievements of primary school teachers across England who go above and beyond to keep their pupils physically active and healthy. Schools are encouraged to nominate heroes who have demonstrated enthusiasm to inspire their children to be more active and are a positive role model in the school community. An award winner is chosen in each London borough and in regions across Birmingham, with a separate award presented to the national Active School Hero.
In being crowned Waltham Forest's Active School Hero 2020, Maria was recognised for her tireless work in developing her pupils' skills and confidence through sport. Maria has been an enduring force at Whitefield School for over seven years and in her nomination was described as "a shining example of the extra mile teachers are willing to go" to ensure pupils of all abilities can flourish in a sporting environment.
Maria focuses on what pupils can do and not what they cannot do, adapting her lessons according to individual needs and abilities. During the recent lockdown periods, Maria delivered live PE lessons via Zoom each week to ensure her pupils continued to have access to an engaging and interactive PE curriculum. For our young people in wheelchairs, Maria developed bespoke lessons to ensure they could stretch and keep active from home.
Outside of the classroom, Maria engages her pupils in sport through exciting extra-curricular clubs and competitions, giving them opportunities where they can strengthen their teamwork and communication skills. For Maria, it's not just about using sport to keep pupils active – it's about using sport as a way to show pupils how to follow rules, take turns, adapt to change and respect one another.
Speaking of her win, Maria Papazoglou, Head of PE at Whitefield School, said:
"It is fantastic to receive this award from Active School Hero and to see the work we're doing here at Whitefield School being recognised more widely. I love to give our pupils opportunities to learn through sport and instil in them the confidence they need to thrive in an active environment. Our pupils don't always have the chance to be active outside or join mainstream sports clubs, so ensuring they can find other ways to lead healthy and happy lifestyles is incredibly important to me."